Dedicated packaging solutions for Home and DIY
Research suggests we're all spending more time at home. Whether we're working or relaxing, home improvements and DIY are becoming increasingly important. Our sustainable packaging makes sure your products arrive safely and ready to inspire.

Make your complex products easy to transport
At DS Smith we know many of the products you sell are heavy and not always straightforward to pack. On top of that, clear product identification and reader-friendly descriptions of how to use the product are vital. In DIY stores especially, the number of products and applications makes on-shelf clarity a necessity.
We provide high performance retail-ready packaging and point of purchase products that stand out. We can offer transport, industrial packaging and cardboard pallets that take care of all your needs.
Case study Home & DiY
The Cotswold Co closes loop on cardboard packaging
We're collaborating with leading furniture maker, The Cotswold CO, to create a long-term sustainability roadmap as part of their commitment to reducing their impact on the environment.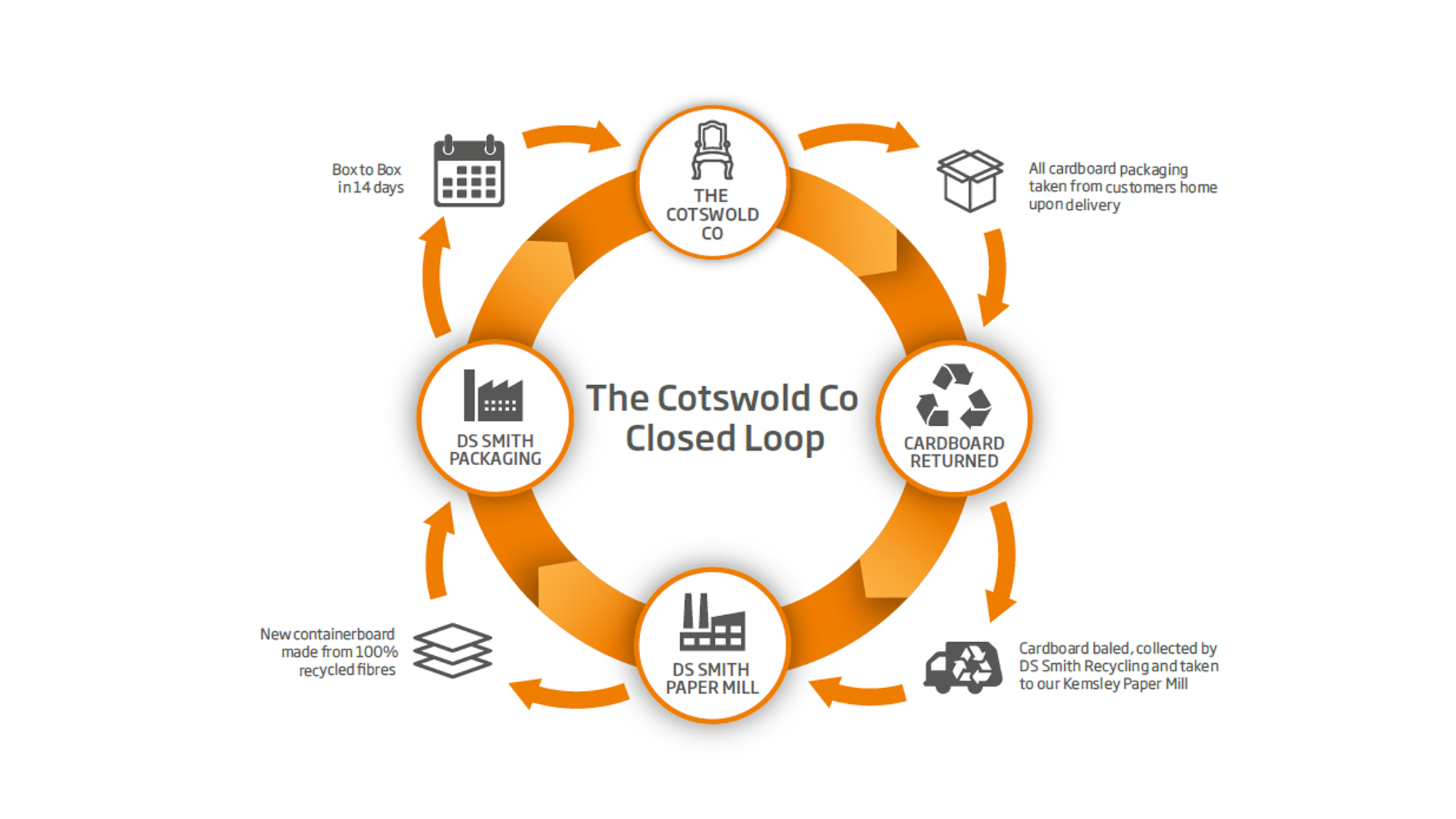 The Challenge
The company already builds products with sustainability and longevity in mind. All timber is responsibly sourced and fully traceable to its forest of origin, and they are on track to ensure that they use 100% FSC-certified engineered wood by the end of 2022. Whilst the company want to ensure their packaging helps their products reach customers in perfect condition, they were concerned about the amount of plastic still being used.
The Solution
But by partnering with DS Smith, The Cotswold Co has been able to take a step nearer to their sustainability goals, making better use of their resources.
Customers can now take advantage of the Packing Removal Service: all cardboard packaging is taken from the customer's home on delivery – the material is then returned to the distribution centre, where it is baled and collected by DS Smith Recycling.
This approach not only improves recycling rates but supports the company's environmental roadmap, ensuring customers receive a more sustainable offering. The Cotswold Co is now striving for closed loop certification from DS Smith for all of its cardboard packaging.