We are investing globally to lead the transition to the Circular Economy
Huge challenges, like replacing problem plastics, taking carbon out of supply chains and providing innovative recycling solutions, take total focus and significant investment. From Portugal to Poland, that's what we're delivering.

At DS Smith, making the transition from the Linear to the Circular Economy is core to our Purpose of Redefining Packaging for a Changing World. By adopting circular ideas, we can create a more sustainable world for now and for future generations: keeping products and materials in use, designing out waste and pollution and regenerating natural systems.
Good for the environment and good for business
At DS Smith, we are already in a strong position to lead the shift to the Circular Economy. Our products are made from renewable resources and once used, our paper and cardboard can be recycled up to 25 times.
Now we are going further: for our customers, our communities and beyond.
To lead our industry, we've made bold sustainability commitments that require vision, innovation and significant investment right across our business. In 2020 we sold our plastics division to focus our expertise solely on delivering sustainable packaging solutions.
Above all else, packaging must be redefined in the face of global sustainability challenges. From recyclability, to climate change, to pressures on water sources, packaging must play a role in facilitating a more circular global economy.
We are investing in circular design
Waste and pollution are often a direct result of decisions made at the design stage. In fact, 80% of environmental impacts are determined here.
With over 700 packaging designers and innovators, developing thousands of packaging specifications every year, we have introduced our Circular Design Principles. Using these principles enables us to design out waste, keep valuable materials in use and make it easier for consumers to reuse and recycle packaging.
In our Now and Next Sustainability Strategy, we set a target of training 100% of our designers in our Circular Design Principles by 2023. In May 2021 we met our target – two years ahead of schedule.
We are doubling our Research & Development spend
Over the next five years, we're investing £100m in research and development to help accelerate our work in the Circular Economy.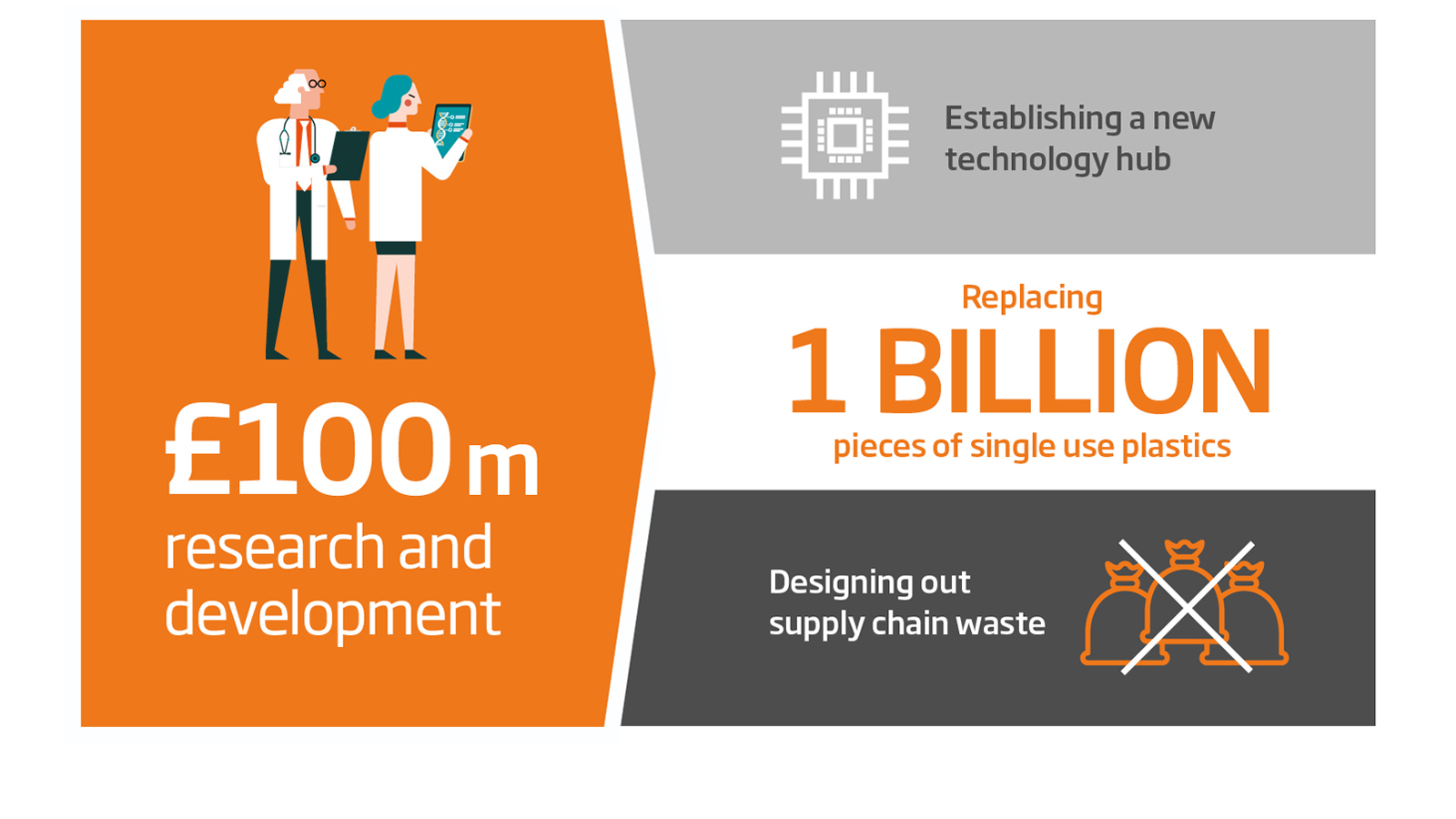 It will fund the creation of a new breakthrough technologies hub focused on helping us meet our target to find sustainable alternatives for single-use plastic in all our packaging by the end of the decade.
Sooner than that, we will replace one billion pieces of single-use supermarket and e-commerce plastic with sustainable alternatives by 2025, as well as designing out waste in the supply chain.
We are investing in renewables and energy efficiency
We are setting new standards in fuel efficiency as well as switching to solar, wind, geothermal, hydroelectric and hydrogen energy where possible.
To date we've delivered a 23% reduction in CO2e per tonne of production on a like-for-like basis since 2015, pacing ahead of our target. This has been mainly driven by investment in equipment upgrades and green procurement at our mills.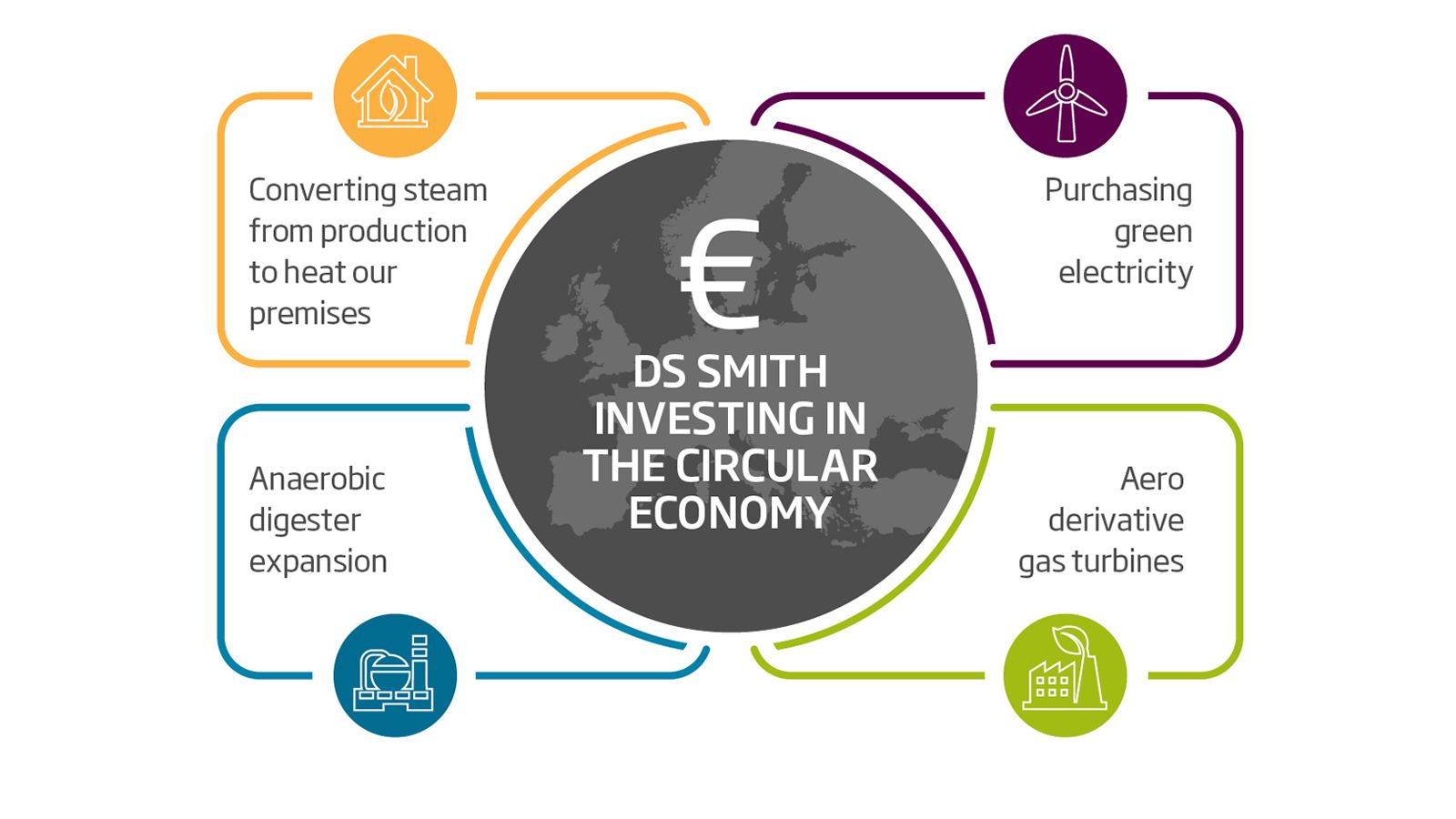 At our Belišće Mill in Croatia for example, around 27,000 tonnes of CO2e has been saved by purchasing green electricity.
Our Lucca Mill in Italy has installed a new aero derivative gas turbine in partnership with GE Gas Power, removing an estimated 4,000 tonnes of CO2e per year. That's the equivalent of taking nearly 900 passenger vehicles (relative to production) from the roads each year.
At many of our mills we are adopting a circular approach to energy. At Rouen in France, we have invested €7.5 million in expanding our anaerobic digester. Now we are able to process 100% of the mill's waste water on-site and harvest more of the biogas produced. When converted back into green electricity by our partner IDEX, this will save up to 2,600 tonnes CO2 per year.
We are investing in technology and innovation
As early adopters of new technology and new ways of thinking, we take pride in developing a steady stream of innovations, working collaboratively across our sites and with other key partners to embrace Industry 4.0.
One of these, 'StepChange', is already helping us deliver new, digitalised ways of working that provide greater value for our business, our people and our customers.
For example, to move paper more quickly, safely and sustainably around our Kemsley Mill we've taken diesel trucks out of our warehouse and invested in pioneering robotic technology – 10 Automatic Guided Vehicles (AGVs).
At our Lucca mill, our engineers developed another innovation: by diverting the steam generated in the paper drying process through a heat exchanger, previously wasted energy has been captured and reused to heat our offices. This cuts our Liquid Petroleum Gas (LPG) consumption by 32,000 litres per year and saves 50 tonnes of CO2 per annum - equivalent to the average annual emissions of six households. Reinforcing our circular approach of always seeing waste as a potential resource.
We are investing in our customers
Like us, a growing number of our customers see the urgency in moving beyond the traditional 'take-make-dispose' model to a circular system where the way we live, work and consume is in balance with the natural world. So we use resources, but don't use them up.
Our Circular Design Metrics are an industry first. They give our customers a unique insight into how their packaging choices can directly reduce their impact on the environment and rate the circularity of their packaging. Through our collaborative design process, customers will be able to compare the environmental performance of different solutions to create more circular packaging without compromising on performance.
We are in a unique position to make change happen faster
By investing significantly in our Now and Next Sustainability Strategy we can move beyond just having our own circular business, and we are already taking a more significant role in making cross-industry supply cycles more circular for many of the world's leading companies.
By investing on this scale, and with our footprint of more than 300 sites in over 30 countries, we will inspire many other businesses to embrace the Circular Economy worldwide.