Climate-related risk (TCFD)
We have been on a multi-year journey to implement the recommendations set out by the Task Force on Climate-related Financial Disclosures, improving how we communicate climate-related financial information.

Our TCFD disclosures can be found within the strategic report section of DS Smith Annual Report 2022, on pages 56-60. Over the past year, we continued to develop our climate scenario analysis, which can be found in the Annual Report. We set a 1.5°C science-based target and began to develop our plans to achieve Net Zero by 2050.
Our CDP Climate Change response contains substantial information and analysis of our response to climate change, including risks and opportunities, and their potential financial impacts. Some of the ESG data used to develop our climate scenario analysis can be found in DS Smith ESG Databook 2022 and our TCFD infographic summarises our climate-related risks and opportunities.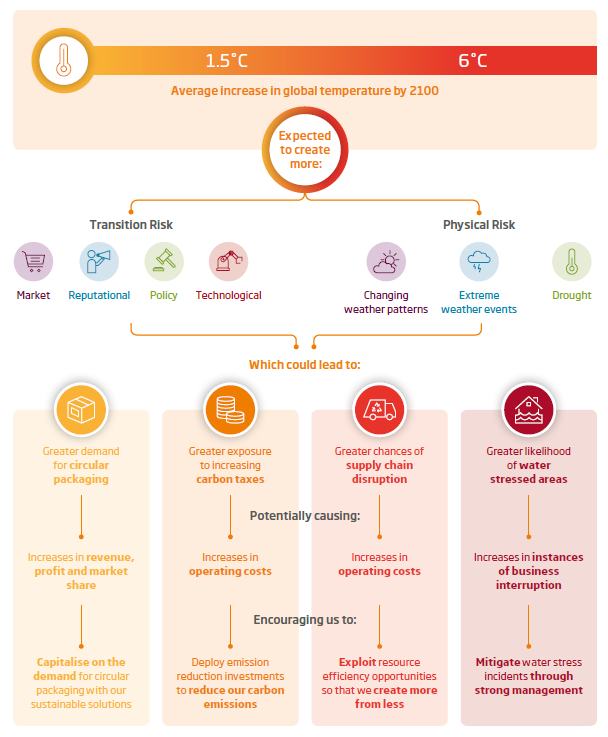 Climate change and our circular business
In our circular business, materials are kept in use for longer as we turn waste into recyclable paper-based packaging solutions. Although this reduces pressure on natural systems, including forests, and prevents waste from entering landfills and oceans, we use energy-intensive processes to transform materials as they move through our circular system, which generates greenhouse gas (GHG) emissions, contributing to climate change.
Our greatest opportunity is to harness the benefits of operating a circular business, whilst adopting resource efficiency measures and renewable technologies to reduce the GHG emissions that contribute to climate change. We are committed to decarbonising our circular business by achieving our 1.5°C science-based target, to reduce Scope 1, 2 and 3 GHG emissions 46 per cent by 2030 compared to 2019, and to reach Net Zero GHG emissions by 2050.
Climate scenario analysis
Building on our climate scenario analysis conducted last year, in 2021/22, we have:
Utilised scenario analysis as part of our strategic assessment to achieve Net Zero by 2050, modelling multiple trajectories to compare investment requirements and define our roadmap

Extended our scenario analysis to include the new IEA (International Energy Agency) Pulp and Paper Net Zero Scenario (November 2021), updated our analysis with our latest data to better reflect the business we have today and enhanced our methodologies to increase the quality of the analysis

Continued to use forecasts relating to climate issues to inform planning, from carbon market analysis and projections to exposure to water stress risk over a range of time horizons.
We have used climate scenario analysis to explore the potential future impacts arising from climate change, drawing on four reference scenarios:
IEA Sustainable Development Scenario (SDS) 1.5°C Pulp & Paper: In this scenario, growth in production and energy consumption are decoupled to achieve decarbonisation to the extent required to be on track with the Sustainable Development Scenario by 2030.
IEA Net Zero Emissions by 2050 Pulp & Paper: In this scenario, annual production expands, necessitating greater recycling. Using a higher share of bioenergy is important to align with the Net Zero Emissions by 2050 trajectory.
IEA ETP SDS 2°C: In this scenario, mitigation measures are applied to carbon intensive industries, alongside technological advancements to the extent required to limit global warming to within 2°C by 2100 versus pre-industrial levels.
IPCC RCP 8.5 6°C: In this scenario, a 'business as usual' state of no policy changes leads to growth in emissions, causing some of the physical effects of climate change to be felt with greater severity.
Summary of our scenario analysis
The climate scenario analysis suggests that our strategies are resilient to climate-related risks and opportunities. There is a low financial risk by 2030, predominantly due to increased costs which would need to be managed. We would not have to make fundamental changes to our business model. By committing to a 1.5°C science-based target for 2030, we are responding to climate-related risks and opportunities in accordance with the latest climate science. As we decarbonise alongside the entire industry, we see opportunities to be at the forefront of leading the transition to a circular economy, which, compared to the linear economy, is a better system for tackling climate change, pollution and biodiversity loss.