Our automotive solutions create value through your operations and supply chain
We use our proven automotive experience, expertise and partnership approach to help build your brand and deliver solutions that are 'right first time' every time.

We add our expertise throughout your supply chain
We know the automotive supply chain is one of the most complex in the world. The process that moves component parts to production operations and consumers globally is unique, highly challenging and high in cost.
Our collaborative way of working and understanding of Total Cost means we create packaging solutions that help you meet your business and sustainability goals.
We put circularity at the heart
We consider every aspect of the environmental impact of your automotive products in the supply chain. Our circular solutions and sustainability ambitions can give you a competitive edge over other organisations in a globally competitive environment.
Our expert teams, tools and global supply, service and experience are here to help you.
We help you meet your shipping challenges by:
• Protecting your product
• Reducing damage.

We help you with circular packaging solutions that:
• Improve reusability
• Reduce your CO2e
• Manage waste.

We help you eliminate unnecessary cost by:
• Providing packaging solution that are 'right first time'
• Identifying efficiencies and optimising your supply chain
• Providing bespoke solutions to your challenges.

Case study
Increased sustainability and improved storage
Challenge:
Our customer, one of the biggest producers of steering and driving technologies for the automotive industry, asked us to provide a sustainable alternative to its plastic containers and polyethylene dividers.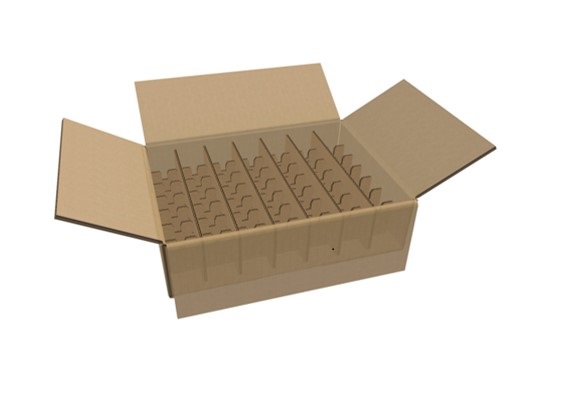 Results :
Our designers created a 100% recyclable corrugated box and dividers that are robust enough to be stacked without suffering any shock. The incorporated corrugated pallet has the added advantage of being a single unit for easier handling and storage.