DS Smith saves car manufacturer over €450,000 pa by optimizing packaging for a spare part
When a major car manufacturer launched a new retractable luggage cover, it asked DS Smith to redesign the packaging it had been using for its old model. This wasn't simply a case of making the new product fit; it was an opportunity to optimize the packaging in terms of material and logistics costs.


Solution
The old packaging used a main carton with three cardboard inserts to hold and protect the product. This made it complex and time-consuming to use. Along with the customer, we developed several design options at a DS Smith PackRight Workshop. The chosen solution uses corrugated cardboard with integrated inserts instead of loose ones. In addition, we were able to reduce the overall packaging dimensions to enable improved truck and container utilization.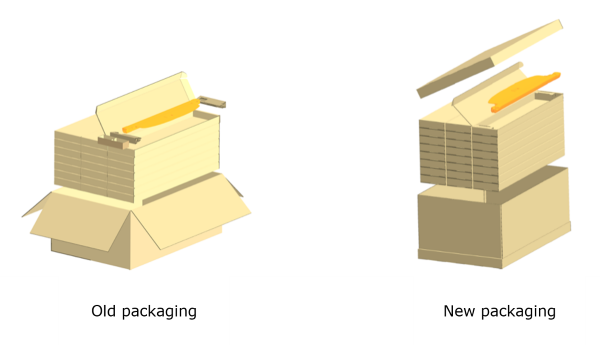 The old packaging could fit 21 products on a single pallet (1730x1130x690mm).
The smaller dimensions of the new packaging fits 24 products onto a single pallet (1465x945x675mm). And by being able to fit more pallets into every truck or sea container, transport costs were cut by more than a third.
Benefits
Fewer SKUs thanks to the elimination of loose parts make stock control simpler and more efficient for the customer. With no need for glue, the solution is also simple to assemble. The single sheet solution is lighter, reduces raw material usage, and generates less packaging waste for the customer.
The smaller dimensions of the packaging mean more items can be stacked on a single pallet saving space in the warehouse and reducing storage costs. Fewer pallets also mean reduced handling and time savings during loading. In addition, the smaller size optimizes truck and container space usage resulting in 35% fewer trucks and sea containers required per year. This is a significant financial saving and also reduces the overall carbon footprint of the product.

24-tonne truck:

40-foot sea container:

Annual cost savings @€469,699 per year:
Old: Packaging + outbound logistics: €913,376
New: Packaging + outbound logistics:: €443,677