Measuring Our Progress
We are redefining packaging through our four strategic goals: delighting our customers, realising the potential of our people, leading the way in sustainability and doubling our size and profitability. We believe that if we deliver in this way, we will meet our vision to be the leading supplier of sustainable packaging solutions.

Strategy and Key Performance Indicators
To delight our customers
To realise the potential of our people
To lead the way in sustainability
To double the size and profitability of the business
Our strategic goals are aligned with the requirements of all our stakeholders, so that we are delivering for all.
To delight our customers
We do this by:
Delivering on our commitments for quality and service
Providing value-adding packaging solutions
Driving innovation
On-time, in-full delivery (OTIF)
Packaging is an essential part of an efficient supply chain. Delivering as promised is a critical component to ensuring we remain a trusted partner to our customers.
2021/22 performance: In the year 2021/22, our overall OTIF was 94 per cent. This is below our target of 97 per cent due to disruption caused to supply chains by Covid-19 and the Russian invasion of Ukraine. We continue to strive for higher service levels and have seen improvements in our underlying operations.
To realise the potential of our people
We do this by:
Ensuring the health, safety and wellbeing of all our employees and creating a working environment where they feel proud, engaged, included and developed to perform at their best
Accident Frequency Rate (AFR)
We believe all employees contribute to a safe working environment and culture
and our focus is on individual ownership.

2021/22 performance:The effect of the Covid-19 pandemic has been felt throughout the organisation creating significant absenteeism challenges. Despite this, we have improved our health and safety performance, which is a significant achievement.
To lead the way in sustainability
We do this by:
Closing the loop through better design
Reducing waste and pollution through circular solutions
Equipping people to lead the transition to a circular economy
Protecting natural resources by making the most of every fibre
2021/22 highlights:
Set our 1.5°C science-based target to reduce Scope 1, 2 and 3 GHG emissions by 46 per cent by 2030 compared to 2019 and reach Net Zero emissions by 2050
Delivered progress on our Now and Next Sustainability Strategy; achieving our targets to manufacture 100 per cent recyclable or reusable packaging and to fund 100 biodiversity projects across Europe and North America ahead of our plans
Placed on the prestigious 'A List' for CDP Water Security, increased our CDP Climate Change score to A- and earned EcoVadis 'Platinum' rating
Played our part at COP26, with a sustainable packaging installation at the Ellen MacArthur Foundation Café in the New York Times Climate Hub where we launched our Circular Economy Lesson Plan as part of our goal to engage five million people on the circular economy and circular lifestyles by 2030
To double the size and profitability of the business
We do this by:
Being well positioned in developed markets
Work with major global FMCG brands
Driving market share gains
Investing behind fundamental growth drivers
Like-for-like corrugated volume growth
We target volume growth of at least GDP +1 per cent because we expect to win market share by delivering value to our customers across their supply chain on a multinational basis.
2022 Performance: Corrugated box volumes grew strongly by a record 5.4 per cent. Despite the growth, it is behind our target of GDP +1 per cent of +9.0 per
cent, which was particularly volatile due to Covid-19 with major declines seen in the comparative period and hence a stronger bounce back post pandemic. Over the two-year period the average of GDP +1 per cent was 1.6 per cent and our compound average box volume growth over the same period was 4 per cent.
Return on sales
The margin we achieve reflects the value we deliver to our customers and our ability to charge for that value. It is also driven by our scale. A higher return on sales makes the profit more resilient to adverse effects.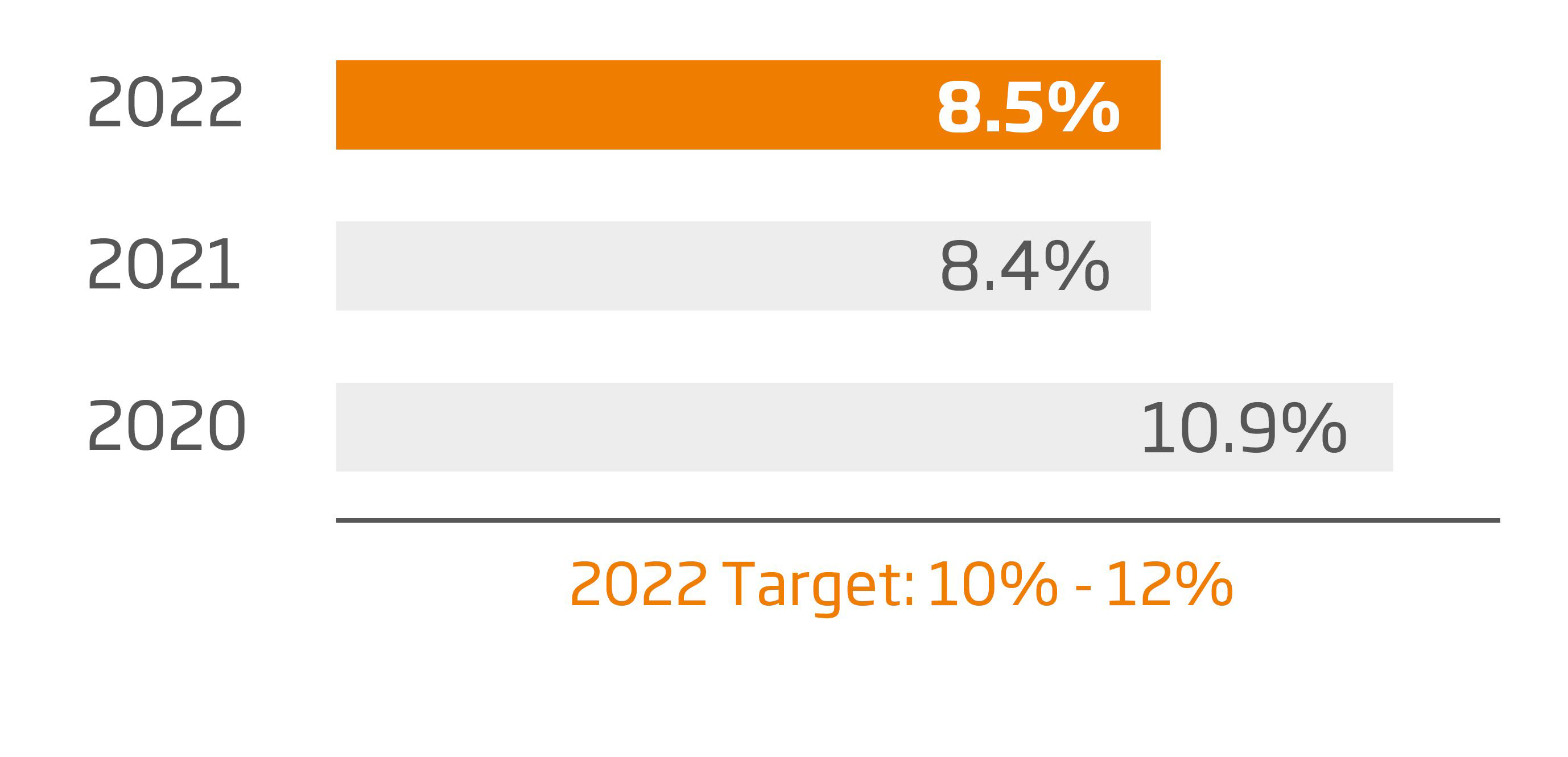 2022 Performance: Return on sales (RoS) grew 10 basis points to 8.5 per cent due to the 23 per cent improvement in adjusted operating profit more than offsetting the dilutive impact on RoS of the significant cost inflation pricing.
Adjusted return on average capital employed (ROACE)
Our target ROACE to be delivered throughout the economic cycle is above our cost of capital. ROACE is a key measure of financial success and sustainability of returns and reflects the returns available for investment in the business and for the servicing of debt and equity. All investments and acquisitions are assessed
with reference to this target.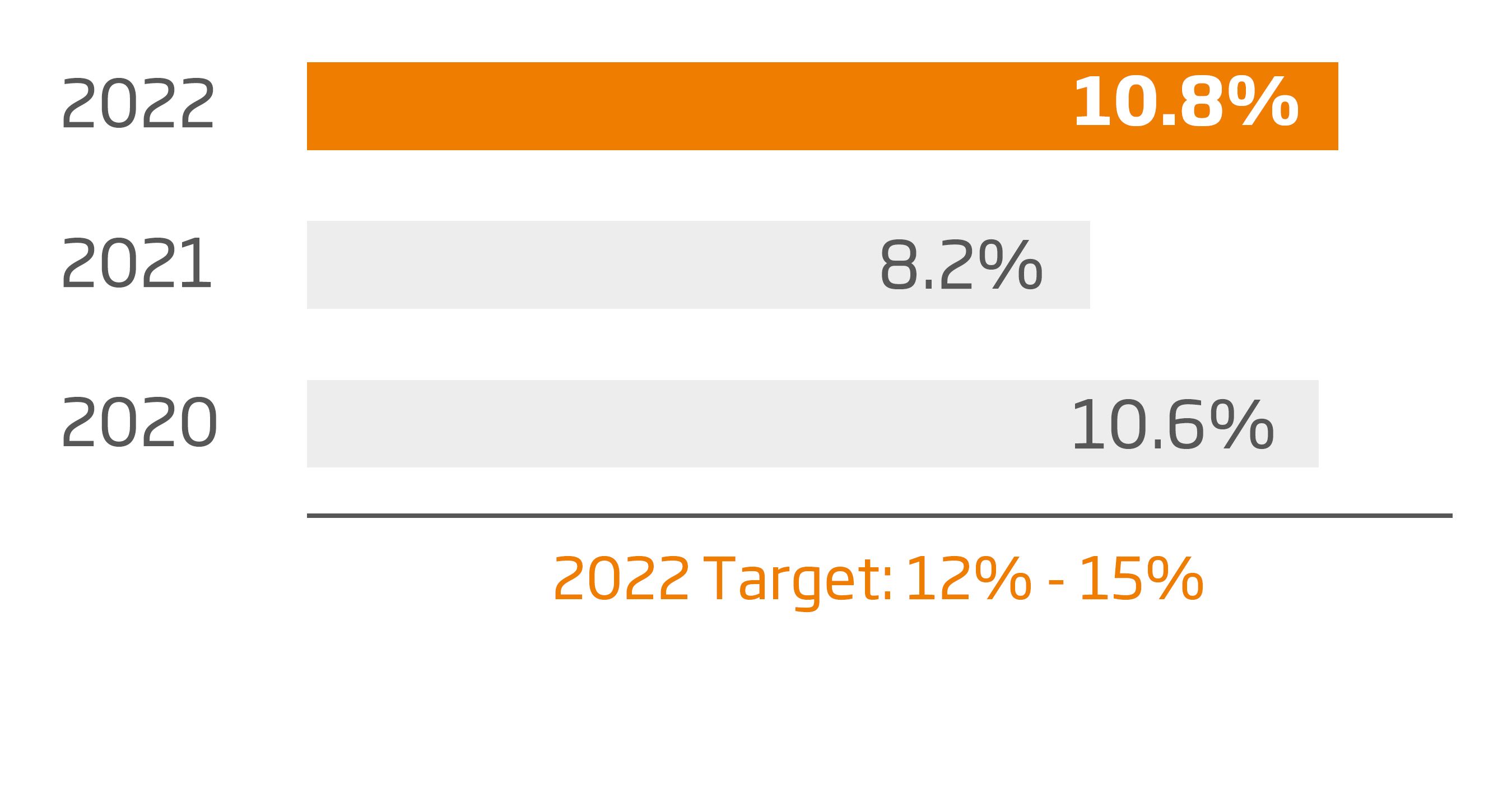 2022 Performance: Adjusted ROACE progressed significantly during the year, by 260 basis points to 10.8 per cent, reflecting the improvement in adjusted operating profit. The improving trend in profitability combined with the improving returns from recent acquisitions and investments means ROACE was 12.1 per cent for the second six months of the year.
Net debt/EBITDA
Net debt/EBITDA is a key measure of balance sheet strength and financial stability.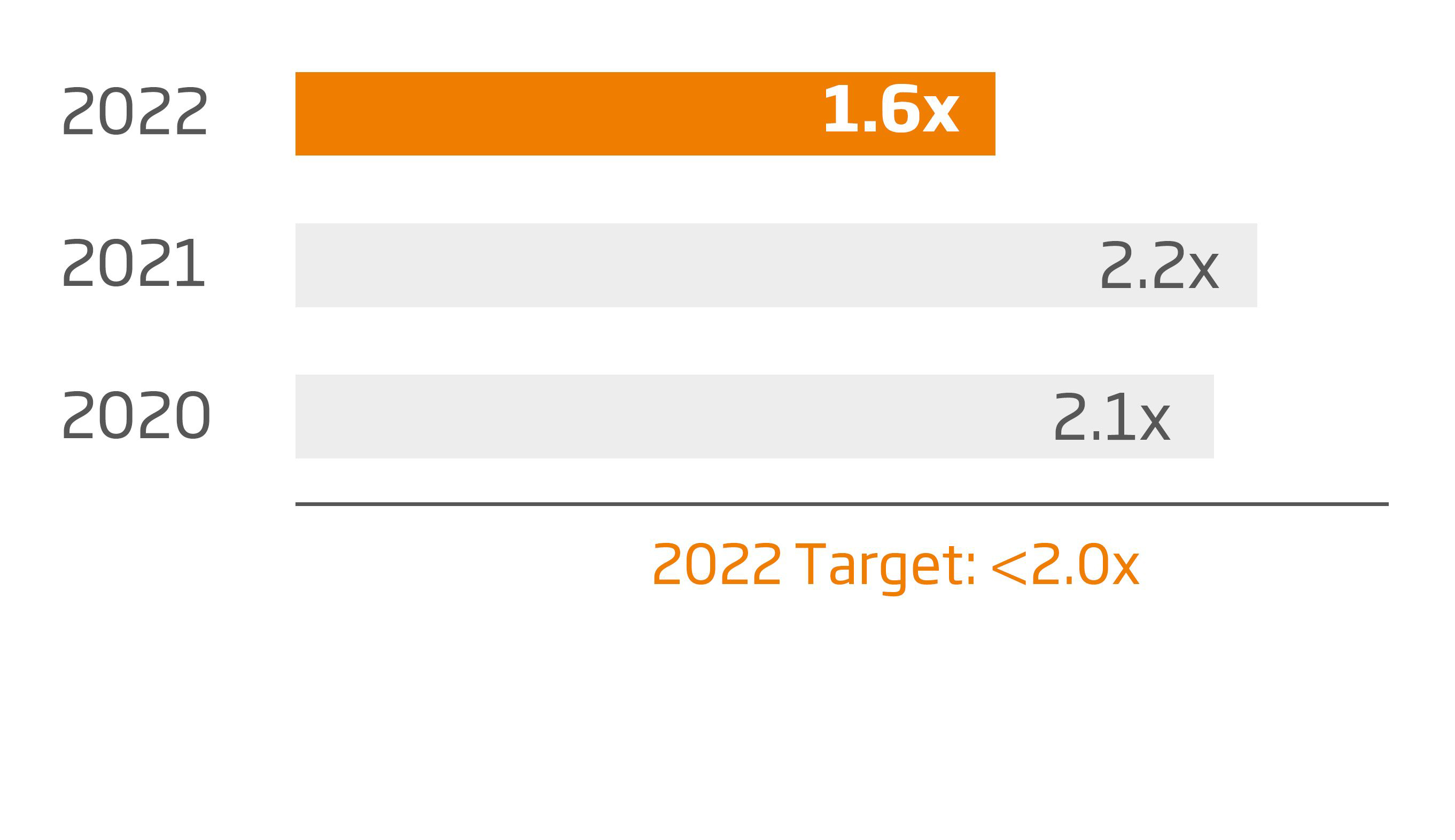 2022 Performance: Net debt as at 30 April 2022 was £1,484 million and 1.6 times EBITDA with the reduction principally due to excellent cash management.
Cash conversion
We focus on cash conversion as part of our wider focus on capital management and maintaining a prudent balance sheet. Working capital is a key focus within the business in order that all capital is employed where it can best deliver returns for the business.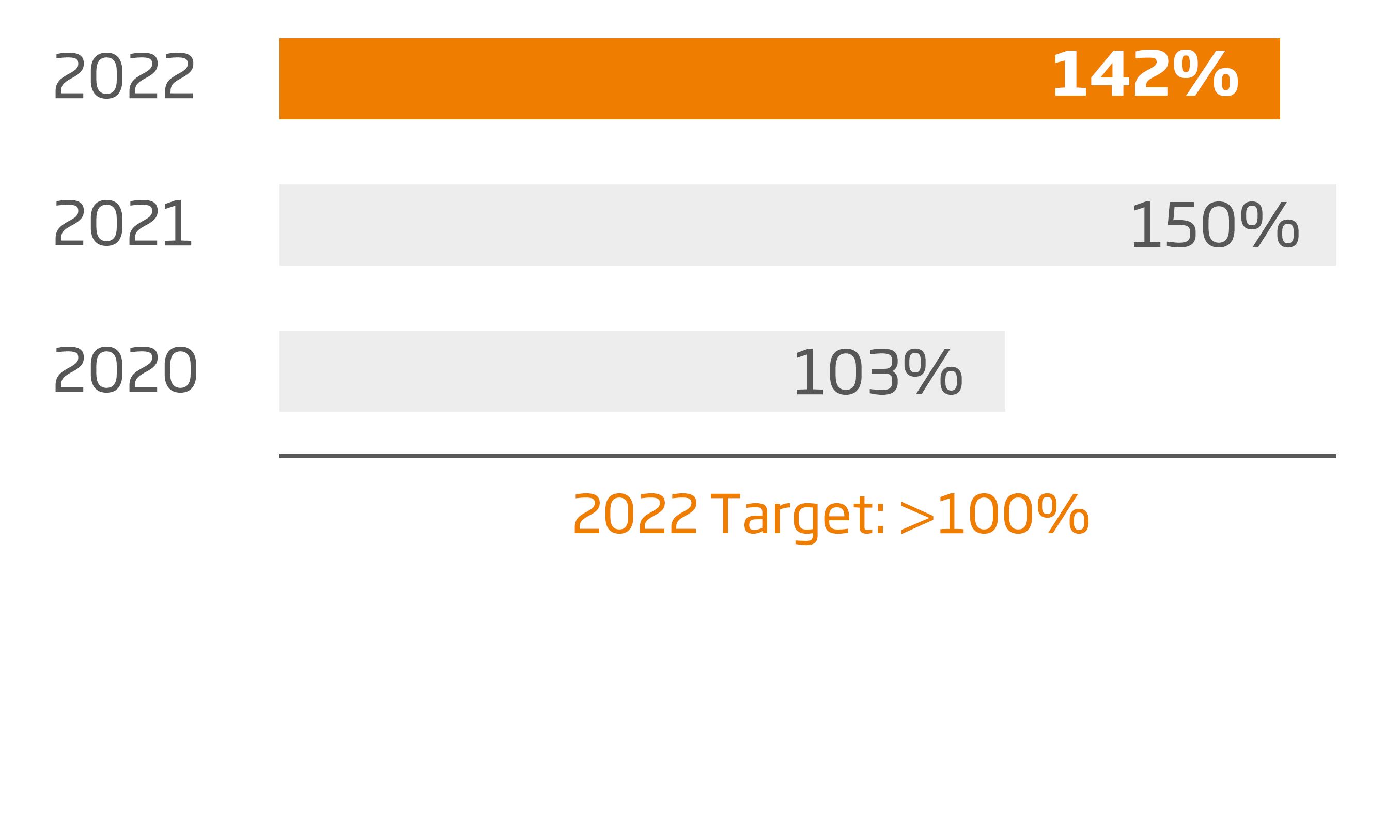 2022 Performance: Cash conversion was 142 per cent, in line with our target, driven by higher cash inflows from operating activities.