Our Circular Business Model
Our circular business model is focused on sustainable fibre-based packaging and supported by recycling and papermaking operations. We play a central role in the value chain across our customer's sectors including e-commerce, fast moving consumer goods and industrials.

From our packaging to our processes, our designers and innovators are relentlessly pursuing every new opportunity to create circular solutions designed to eliminate waste and pollution, re-use or recycle products and materials, and regenerate nature.

Many of our customers are multinational industry-leading brands who require a global, consistent approach to their packaging; and they are increasingly looking for closer partnerships to grow and innovate with them.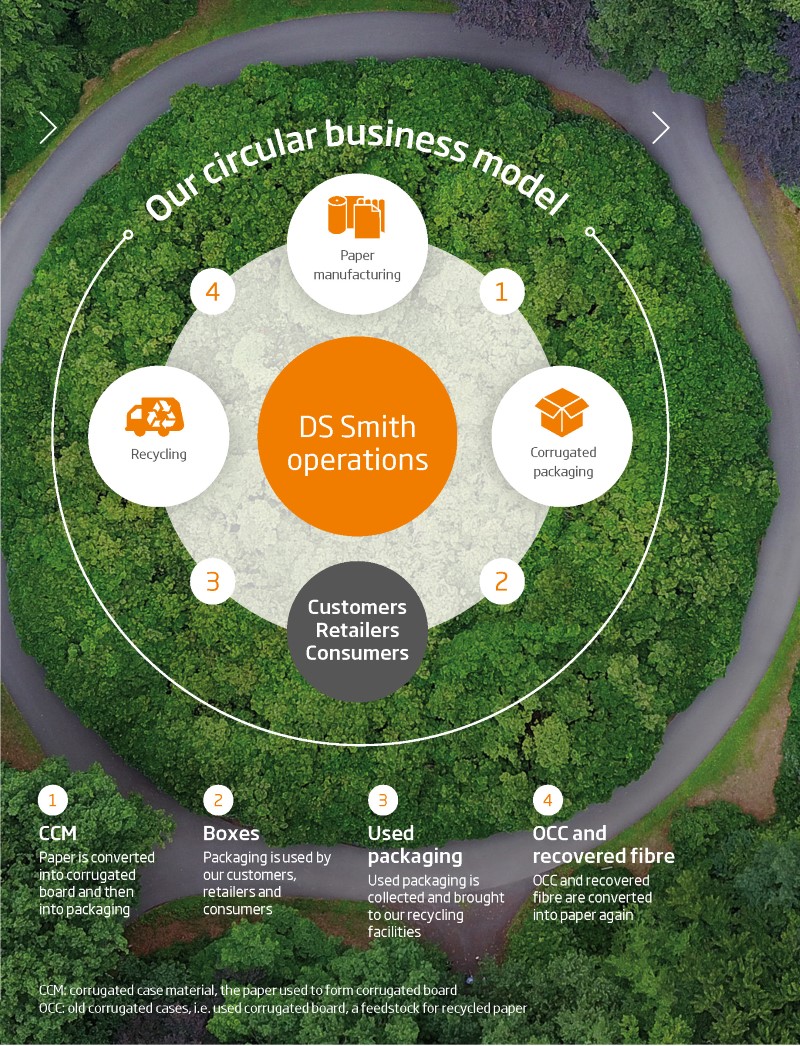 Leading the transition to a circular economy is embedded at the very heart of how we operate and drives many of our innovative products and services from plastic replacement and closed loop solutions to our industry-first Circular Design Metrics.
Our relationships and resources
Our people and values: We employ around 30,000 people globally and invest in and develop them so they can realise their potential. Our values and management standards guide how we operate.
Manufacturing and other physical assets: We have an extensive network of packaging manufacturing sites, paper mills, recycling depots and innovation centres, supported by the infrastructure of the countries in which we operate.
Our relationships: We interact in a way consistent with our corporate values to build and maintain trusted relationships with our customers, suppliers and communities.
Intellectual capital: We have substantial customer understanding, innovation and patented designs.
Data and digital: Integration of data and digital will help increase manufacturing capacity, service levels, and deliver best in class customer experience.
Financial capital: We are funded by a combination of shareholder equity, debt and reinvested cash flow.
Natural capital: We operate a circular model through the recycling of natural material, in particular wood fibre.


How we create value
Insight & Expertise
Strong relationships with our customers in fast moving consumer goods (FMCG), retail and industrial sectors, combined with our own expertise, means that we have considerable knowledge and insights in changing consumer, retail and regulatory trends and how they impact use of packaging.
We showcase our insight at our network of Impact & PackRight Centres, designed to inspire our customers and help them understand how packaging can help them sell more, reduce their costs and manage their risk. Learn more!
Another way of using this knowledge is to inform our innovation programme which drives research and development to accelerate our work in the circular economy and plastic replacement.


Innovation
We're inventing, re-imagining and redefining to deliver the circular economy. Innovation is at the heart of our business and is vital in keeping global supply chains running as they become more integrated, demanding and focused on sustainability.
We have a five-year, £100 million investment programme in research and development (R&D) to accelerate our work in the circular economy and plastic replacement. We have opened a state-of-the art laboratory at Kemsley Mill, the second largest paper mill in Europe, to advance our research into alternative fibre sources for paper and packaging products. We are innovators in the use of light-weight ¬corrugated board. Our proprietary technology to test the strength of corrugated board as it is manufactured means we can use the optimum paper weight required.
We have also announced a new flagship innovation centre for ideation, design, testing, piloting and collaboration near Birmingham, UK. This facility will allow us to install and test pilot product and service lines to enable customers to visualise the value that we can bring to them.
Small steps made now can have the biggest impact. Our customers play their part and by offering to bring used packaging directly back to us to then recycle into new packaging with DS Smith again and again is a significant step towards a circular economy.
Removing unnecessary plastic is at the top of our minds and is very important to our customers. This project with DS Smith removed the plastic shelf edge label holder, making it easier for our shipper units to flow through our cardboard recycling stream.
Design
A crucial part of making sure our packaging meets the evolving demands of the supply chain is ensuring that circularity is built in at the start. All of our designers use our Circular Design Principles to improve the sustainability of packaging and we also embedded our Circular Design Metrics across all our packaging sites to ensure that we can measure the environmental impact of all our design solutions. An industry first, our metrics enable us to quantify the sustainability performance of each of our packaging designs across eight key different indicators: carbon footprint, design for reuse, supply chain optimisation, recyclability, planet safety, material utilisation, renewable sourcing and recycled content.


70% of waste is determined at the product's design stage. That means innovative design, and the materials and processes we use, is at the heart of the transition to the circular economy.
Through our network of designers and PackRight Centres, we create packaging that fulfils our customers' requirements for all stages of the primary product's journey, whether replacing plastic, improving protection in transit, ease of identification in the supply cycle, or presenting the primary product to maximise sales.

Manufacturing
Our paper mills manufacture corrugated case material (CCM) and our corrugated plants convert CCM into corrugated board, then print, cut and pre-glue the boxes, which are then shipped flat on pallets, ready for assembly and filling at our customers' factories. We maximise the efficiency of our manufacturing, for example, using light-weight papers where possible to reduce the cost and carbon impact of the packaging produced.



The value we create
Satisfied customers: We develop packaging that helps our customers sell more, reduce costs, manage risks and become circular-ready.
Packaging that is sustainable: Our packaging is usually fully recyclable and made from largely recycled material. We recycle more packaging than we produce.
Replacing plastic: We have replaced 313 million units of plastic with alternative fibre-based solutions since 2020.
Returns to our capital providers: Investors benefit from strong operational and financial performance.
Safety and opportunity for our people: We aim to create equality of opportunity for people to grow and develop throughout their career in a safe working environment.
Leadership in sustainability: We are leading the transition on packaging sustainability through our engagement with major organisations such as the Ellen MacArthur Foundation.
Community involvement: We have an active programme of community involvement in addition to satisfying a societal need for recyclable packaging.

You might also be interested in: