Puustelli Group Oy drops 32,000kg of plastic packaging for sustainable corrugated cardboard
Puustelli Group Oy manufactures their high quality kitchen furniture in Harjavalta in western Finland to supply customers in Finland, Sweden, the Baltic States and Russia.

Known for delivering high quality kitchens and striving for responsible behavior in all its activities, Puustelli Group Oy and DS Smith jointly planned a new type of packaging for kitchen furniture, where the packaging method changed from plastic to recyclable and environmentally friendly corrugated board.
Challenge
Previously, Puustelli furniture was packed in plastic using plastic corner covers and plastic stretch film. The solution wasn't in keeping with the company's environmental objectives and did not provide sufficient protect to products during transport. This in turn caused indirect costs in the form of damaged goods. When DS Smith's packaging experts were ideally positioned to provide a vastly superior solution.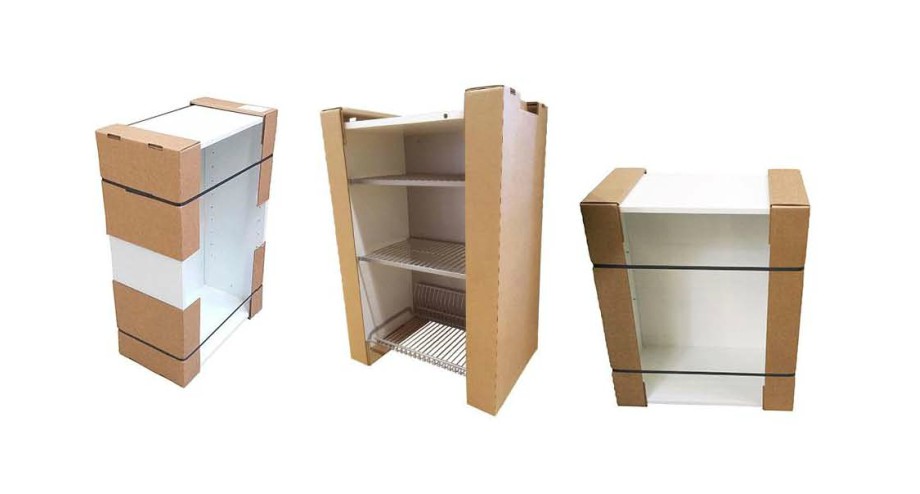 Our Approach
Flexibility and adaptability were to developing a line of corrugated packaging to protect Puustelli's 2000 different fixtures. In the end, DS Smith's packaging strategists devised seven different sizes to cover the entire range generating tremendous savings in terms of ordering, warehousing and implementation.
Results
Avoids 32,000kg in plastic packaging disposal every year
Significant cost savings through improved protection
Happier customers due to easy recycling of packaging
Increased sustainability for Puustelli Group Oy in line with their company ethics.
Cost control as having just seven types of corrugated packaging reduces warehousing costs, simplifies ordering and speeds up distribution